It's really been a great year here at Vastu. In the last 10 years, we have loved both seeing the growth in the area and developing relationships with our clients near and far.
As a way of saying "Thank You", we're introducing our Steven Anthony Holiday Sale!
Starting Black Friday (November 29th) and ending Sunday, December 8th, we're offering 15% off all new Steven Anthony upholstered furniture orders!
Design and create the perfect custom piece for your home with the help of one of our in-store designers!
Choose from hundreds of styles of sofas, sectionals, chairs, benches, ottomans, beds…the list goes on and on.
Pick the style, size, fabric and finish that's right for you and we'll have it made by Steven Anthony himself in here in the USA (Los Angeles, to be exact).
WHAT
The Steven Anthony Holiday Sale
15% OFF all new orders
WHEN
Friday, November 29th – Sunday, December 8th
WHERE
Vastu
1829 14th Street NW
Washington, DC 20009
WHAT
The Herman Miller Holiday Sale!
Take 15% OFF all new orders of living, lounging, dining, meeting, working, storage and outdoor pieces.
WHEN
November 25th – December 12th, 2013
WHERE
Vastu
1829 14th Street NW
Washington, DC 20009
202.234.8344
Click here to view Vastu's online Herman Miller catalog of products. 
Following closely on the steps of our awesome 2013 Knoll Space Sale is a different kind of promotion from EcoSmart Fire.
If you make a qualifying EcoSmart Fire purchase at Vastu*, from October 1st through October 31st, you'll be eligible for special pricing on the simple and elegantly designed Lighthouse series of outdoor fireplaces.
The Lighthouse comes in three sizes and two outdoor finishes guaranteed to stand up to the elements.  Or you can bring them inside to increase the ambiance of your indoor spaces.
*Spend a minimum of $990 and get the Lighthouse 150 for just $199. Or upgrade to Lighthouse 300 for $299 and Lighthouse 600 for $399.
Come celebrate Vastu's 10th Year on 14th Street!
Jason Claire and Eric Kole opened Vastu in 2003 with one goal in mind: to bring comfortable, modern, custom designs to Washington, DC.
While the neighborhood may have changed drastically since then, one thing still remains true: our commitment to providing you with the best shopping experience on 14th Street. Jason and Eric, along with new Vastu co-owner Matt, would like to thank you for 10 great years and invite you to celebrate with 20% off all new Steven Anthony custom upholstered furniture orders*. Custom-design and personalize the sofa, occasional chair, or bed you've always wanted!
Check out our online catalog and start thinking about which Steven Anthony piece would look perfect in your space.
WHAT:
Vastu's 10th Anniversary Sale
WHEN:
July 27th through August 4th
WHERE:
Vastu
1829 14th Street NW
Washington, DC 20009
*20% Off New Steven Anthony Orders Only. Not to be combined with any other discounts or promotional offers. Does not apply to COM/fabric orders or delivery charges.  Additional exclusions may apply.
It's the final weekend of the Herman Miller Summer Sale and your final chance to receive 15% off the entire Herman Miller catalog. If you haven't done your shopping yet what are you waiting for?
To give you that little extra push, here's an amazing set of photos from Herman Miller of their collection.
So remember, you have until Monday (close of business) to take 15% off all Herman Miller products and orders over $500 that are delivered to the DC Metro Area receive Free In-Home, White-Glove Delivery.
Click Here to View the Herman Miller Collection on VastuDC.com
Want to be notified with details of the next sale at Vastu? Sign up and join our email list.
The Herman Miller Summer Sale – Friday, May 31st through Monday, June 10th
Receive 15% off the entire Herman Miller catalog of living, dining, lounging, working and outdoor furniture. If your order is over $500 and you live in the DC Metro Area then you receive FREE in-home, white-glove delivery!
Click here to check out the full Herman Miller catalog at Vastu.
We're entering the final few days of the Spring Richard Schultz sale from Knoll and time has almost run out to take advantage of 15% savings. In celebration of the awesome line of outdoor pieces included in the sale, here's some interesting history on Richard Schultz and his relationship with Knoll (from Knoll.com).
"Richard Schultz has long been an integral part of the Knoll story. After studying mechanical engineering and design at Iowa State University and the Illinois Institute of Technology in Chicago, Schultz joined Knoll in 1951. His first assignment was to assist Harry Bertoia on the development and production of the Bertoia Wire Collection. This led to an 18-month assignment in Europe, establishing and supervising production of the Bertoia designs for Knoll subsidiaries and licensees. After returning to the U.S., he joined the Design Development Group at the Knoll factory in East Greenville, PA.

Schultz is best known for his outdoor furniture designs. His graceful Petal Table, introduced in 1960, received the design award from Industrial Design magazine. The steel wire-formed 715 Chaise Lounge, which was introduced the following year to complement the Bertoia collection, was selected in 1963 by the Museum of Modern Art for its permanent collection of contemporary furniture. After Florence Knoll moved to a seaside home in Florida, she started sending the design team rusty pieces of furniture, asking them to develope something that could perform in the salty climate. Schultz responded with the aluminum Leisure Collection in 1966.
After leaving Knoll, Schultz continued to have a successful career designing outdoor collections for his own studio. Knoll acquired Richard Schultz Design in 2012, enabling the re-release many of Schultz's classic Knoll designs."
Pieces in the Richard Schultz collection of outdoor furniture are 15% off through Friday, May 24th.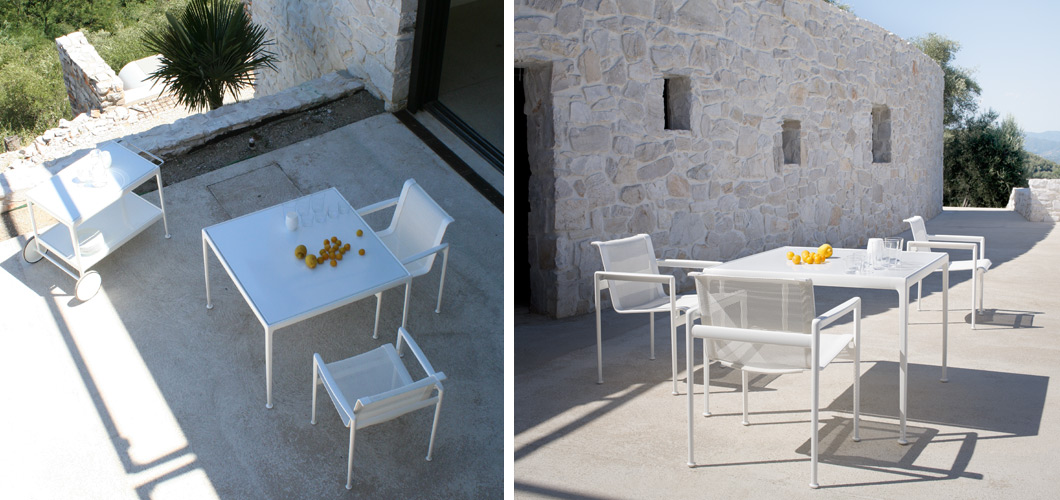 In a surprise announcement, Knoll delivered details of its first sale on the entire Richard Schultz line of outdoor collections since its acquisition in March 2012.
Through May 24th, you can take advantage of 15% OFF on Richard Schultz outdoor designs including 1966®, Petal®, Topiary®, Swell® and Fresh Air Collections. Click here to see Vastu's Richard Schultz online catalog.
What:
Richard Schultz Sale
Where:
Vastu
1829 14th Street NW
Washington, DC 20009
When:
May 10-May 24
Anybody familiar with the Platner collection from Knoll can probably appreciate the way Warren Platner  made comfortable, sculptural and beautiful furniture from something as simple as bent wire. Reintroduced in August 2012, the Platner Easy Chair + Ottoman follow this same design aesthetic at a much larger scale.
From Knoll:
"Since the mid-sixties, Warren Platner's collection of seating and tables using nickel-plated bent wire as a structural and decorative element has captivated furniture enthusiasts. While many Platner Collection pieces have been in continuous production, the Easy Chair and Ottoman were produced between 1966 and 1988.

The hand manufactured Easy Chair, a popular sculptural icon paring geometry and color, is the epitome of curvy comfort; it is available with or without the Ottoman, which can also be used independently."
The Platner Easy Chair + Ottoman is part of the upcoming Knoll Classics Sale (Feb. 25th – Mar. 3rd) and is eligible for 15% Off and FREE in-home white-glove delivery for orders delivered to the DC Metro Area.
The Saarinen pedestal table is another oft-counterfeited design that's been around since 1956. Created by Eero Saarinen (designer of the Gateway Arch in St. Louis and Dulles International Airport among other things), these tables feature tops available in laminate, coated and natural marble and natural granite top finishes, in a wide range of colors. The bases are constructed from molded, cast aluminum strap polished and coated in tough, abrasion-resistant rilsan finish.
Available as a dining table, side table or cocktail table with various shapes, sizes, heights and finish options this highly customizable design fits in spaces that range from traditional single family homes in the suburbs to modern loft penthouses in the city.
All Saarinen tables are part of the Knoll Classics Sale and will receive 15% Off and FREE in-home white glove delivery* from Monday, February 25th through Sunday, March 3rd.
*For orders over $500 being delivered to the DC Metro Area.