We're entering the final few days of the Spring Richard Schultz sale from Knoll and time has almost run out to take advantage of 15% savings. In celebration of the awesome line of outdoor pieces included in the sale, here's some interesting history on Richard Schultz and his relationship with Knoll (from Knoll.com).
"Richard Schultz has long been an integral part of the Knoll story. After studying mechanical engineering and design at Iowa State University and the Illinois Institute of Technology in Chicago, Schultz joined Knoll in 1951. His first assignment was to assist Harry Bertoia on the development and production of the Bertoia Wire Collection. This led to an 18-month assignment in Europe, establishing and supervising production of the Bertoia designs for Knoll subsidiaries and licensees. After returning to the U.S., he joined the Design Development Group at the Knoll factory in East Greenville, PA.

Schultz is best known for his outdoor furniture designs. His graceful Petal Table, introduced in 1960, received the design award from Industrial Design magazine. The steel wire-formed 715 Chaise Lounge, which was introduced the following year to complement the Bertoia collection, was selected in 1963 by the Museum of Modern Art for its permanent collection of contemporary furniture. After Florence Knoll moved to a seaside home in Florida, she started sending the design team rusty pieces of furniture, asking them to develope something that could perform in the salty climate. Schultz responded with the aluminum Leisure Collection in 1966.
After leaving Knoll, Schultz continued to have a successful career designing outdoor collections for his own studio. Knoll acquired Richard Schultz Design in 2012, enabling the re-release many of Schultz's classic Knoll designs."
Pieces in the Richard Schultz collection of outdoor furniture are 15% off through Friday, May 24th.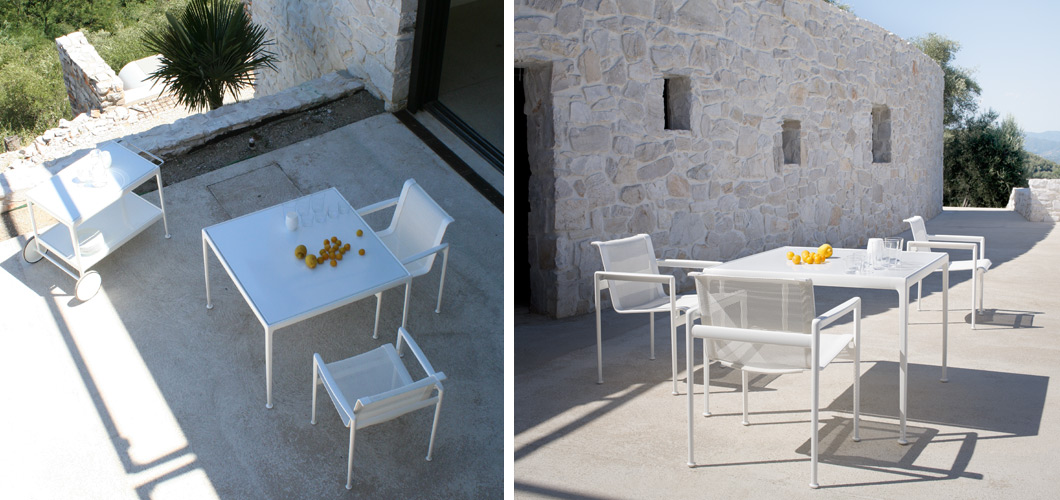 In a surprise announcement, Knoll delivered details of its first sale on the entire Richard Schultz line of outdoor collections since its acquisition in March 2012.
Through May 24th, you can take advantage of 15% OFF on Richard Schultz outdoor designs including 1966®, Petal®, Topiary®, Swell® and Fresh Air Collections. Click here to see Vastu's Richard Schultz online catalog.
What:
Richard Schultz Sale
Where:
Vastu
1829 14th Street NW
Washington, DC 20009
When:
May 10-May 24
Anybody familiar with the Platner collection from Knoll can probably appreciate the way Warren Platner  made comfortable, sculptural and beautiful furniture from something as simple as bent wire. Reintroduced in August 2012, the Platner Easy Chair + Ottoman follow this same design aesthetic at a much larger scale.
From Knoll:
"Since the mid-sixties, Warren Platner's collection of seating and tables using nickel-plated bent wire as a structural and decorative element has captivated furniture enthusiasts. While many Platner Collection pieces have been in continuous production, the Easy Chair and Ottoman were produced between 1966 and 1988.

The hand manufactured Easy Chair, a popular sculptural icon paring geometry and color, is the epitome of curvy comfort; it is available with or without the Ottoman, which can also be used independently."
The Platner Easy Chair + Ottoman is part of the upcoming Knoll Classics Sale (Feb. 25th – Mar. 3rd) and is eligible for 15% Off and FREE in-home white-glove delivery for orders delivered to the DC Metro Area.
The Saarinen pedestal table is another oft-counterfeited design that's been around since 1956. Created by Eero Saarinen (designer of the Gateway Arch in St. Louis and Dulles International Airport among other things), these tables feature tops available in laminate, coated and natural marble and natural granite top finishes, in a wide range of colors. The bases are constructed from molded, cast aluminum strap polished and coated in tough, abrasion-resistant rilsan finish.
Available as a dining table, side table or cocktail table with various shapes, sizes, heights and finish options this highly customizable design fits in spaces that range from traditional single family homes in the suburbs to modern loft penthouses in the city.
All Saarinen tables are part of the Knoll Classics Sale and will receive 15% Off and FREE in-home white glove delivery* from Monday, February 25th through Sunday, March 3rd.
*For orders over $500 being delivered to the DC Metro Area.
For anyone who's shopped at Vastu you know that we don't typically have things "in stock". We actually pride ourselves on the fact that we source from various vendors that give you the chance to personalize your furniture with custom sizes and finishes, meaning each piece is made just for you.
Sometimes, however, we do obtain a few brand new pieces that we would rather see go to a good home off the floor. Here are some ready and priced for immediate purchase and pickup…
Quad 3-Drawer Bedside Tables (Custom Order)
Espresso finish | Originally: $735-each | Floor Model Sale Price: $1,250-pair
White Seat, Chrome Frame | Originally: $523-each | Floor Model Sale Price: $900-pair
Clear Maple Frame, Licorice Cotton/Nylon Webbing | Originally: $902-each | Floor Model Sale Price: $800-each OR $1,500-pair
Even though it was a month-long sale event, we've come down to the last day to take 15% off all new orders of EcoSmart Fire products including Designer Ranges, Grate Ranges, Outdoor Ranges and EcoSmart Fire Accessories.
Stop by today to discuss your options with a Vastu designer and take advantage of this great opportunity!
This is really rare for us, but we have one more sale event to share with you all!
As the weather starts to cool down, it's time to start thinking about fireplaces. Specifically, the great fireplaces from EcoSmart Fire (available at Vastu).
This sale runs for the entire month of October, increasing the amount of time available to you for 15% Off all EcoSmart Fire products including Designer Ranges, Grate Ranges, Outdoor Ranges and EcoSmart Fire Accesories.
All EcoSmart Fire designs run off of ethanol producing a beautiful, and warm, orange flame without the need for flues, vents or gas lines.
Stop by the showroom today to see a demonstration and check out the many great fireplaces on sale in October.
The Knoll Space Sale has officially started and we got into the spirit with a new window based on Eero Saarinen's iconic pedestal-based dining, coffee and side tables.
With a variety of marble and wood veneers tops and multiple heights and diameters there's a table to match everyone's style.
Originally: $799 | Sale Price: $679.15
Originally: $1,481 | Sale Price: $1,258.85
Originally: $1,071 | Sale Price: $910.35
Originally: $1,513 | Sale Price: $1,286.05
Originally: $2,758 | Sale Price: $2,344.30
Originally: $2,292 | Sale Price:

$1,948.20

Originally: $1,459 | Sale Price: $1,240.15
Originally: $656 | Sale Price: $557.60
The Knoll Space lasts through September 30th and includes
Free In-Home, White-Glove Delivery
(for pieces over $500 to the DC Metro Area).
With the official beginning of Fall comes two things, the return of the Pumpkin Spice Latte at Starbucks (Yum!) and the Annual Knoll Space Sale.
It's your chance to take 15% off all new orders from the entire Knoll Space catalog!
Choose from great classics like Mies Van der Rohe's Barcelona Chair or new designs like Joseph Paul D'Urso's Swivel Lounge Chair  (shown above in Knoll Felt 'Pink').
The  sale runs from next Friday, September 21st through Sunday, September 30th.
WHAT:
15% Off – The Annual Knoll Space Sale
WHEN:
September 21 – 30, 2012
WHERE:
Vastu
1829 14th Street NW
Washington, DC 2009
The Midcity Dog Days sale may officially be over, but there are still some great deals to be found here at Vastu!
Take a look…
Stop by the showroom or call us for information and availability.