We're in the home stretch now! Only 4 days left until the start of the Knoll Space Sale! And you can't talk Knoll without mentioning Eero Saarinen's famed Tulip Collection.
Relying on his early training as a sculptor, Eero Saarinen wanted to design chairs that "looked good in a room."  He spent years working with hundreds of drawings, followed by 1/4″ scaled models that were eventually set up in a scaled model room the size of a doll house. Full scale models became furniture that was tested in the dining room and living room of the Saarinen household. After a five year design journey he introduced the revolutionary Pedestal Collection in 1958, which includes the Saarinen Dining Table, Coffee Table and Side Table and the Tulip Chair and Stool.
Eero Saarinen vowed to address the ugly, confusing, unrestful world he observed underneath chairs and tables — the so-called "slum of legs".
Molded in fiberglass, the Pedestal Collection is well-known for its cast aluminum base that is inspired by a drop of high-viscosity liquid. The Saarinen pedestal tables features a beveled edge and comes in a variety of different sizes; the tabletop is available in a wide range of woods, granites, and marbles. The Tulip chairs can be configured with or without arms and the seat can be upholstered in tons of different fabric options. The base on the chairs and tables comes in a black or white glossy bonded finish, or platinum clear satin finish. Be sure to check out the upcoming Knoll Space Sale to take advantage of discounted pricing on the entire Saarinen Pedestal Collection.
The Knoll Space Sale starts Friday, September 20th and runs through Tuesday, October 1st.
And with 8 days until the start of the 2013 Knoll Space Annual Sale we bring you the Womb Chair!
CONSTRUCTION AND DETAILS
Chair: seat shell is foam-covered molded fiberglass. Ottoman: foam cushion over molded plywood platform. Seat, back, & ottoman cushions: polyester fiber with foam core.
Base is steel rod available with a polished chrome finish or matte black paint finish.
Seat is available in numerous Knoll Textiles or Spinneybeck Leathers.
Also available in a smaller scale "medium" size or child's size.
Chair and Ottoman are both Greenguard certified.
HISTORY
Although modernist designer Eero Saarinen's primary career was in architecture he did not ignore the smaller sculptural pieces needed to furnish his ambitious projects. Saarinen began designing furniture in his teens, but it wasn't until he and Charles Eames won first prize in the Museum of Modern Art's Organic Design in Home Furnishings competition in 1940 that he was taken seriously as a furniture designer. The competition launched the careers of both men – Eames later going on to work for Herman Miller, while Saarinen partnered with his former Cranbrook associates, Hans and Florence Knoll.
While at Knoll, Eero Saarinen became focused on developing a chair design that achieved comfort through its shape and not the depth of its cushioning. Initially, he began his research developing designs for smaller fiberglass task chairs, but changed direction when Florence Knoll approached him and asked, "Why not take the bull by the horns and do the big one first? I want a chair that is like a basket full of pillows…something I can curl up in."
While that's not exactly where Saarinen ended up, the suggestion inspired one of the most iconic, and comfortable, chairs of the modern furniture movement – The Womb Chair & Ottoman, designed in 1946 and in production ever since.
The Knoll Space Sale starts Friday, September 20th and runs through Tuesday, October 1st.
There are only 9 days left until the official start of the 2013 Knoll Space Annual Sale! We'll be counting down here at Vastu with daily posts on some of the most popular designers and their works for Knoll.
Today we'd like to introduce you to the man behind the artwork for this year's sale, Izak Zenou.
KnollStudio marketing manager Mindy Rynasko had this to say about the well-known fashion illustrator:
"We commissioned artist Izak Zenou to do the illustration for us.  For years Izak's witty, whimsical illustrations have taken fashion to new places.  His work, long associated with exclusive brands and high-end publications, instantly conveys a breezy, fashionable style and fresh, enchanting view of life. After 15 years of collaboration, Izak continues to dazzle shoppers as the face of Henri Bendel, New York's premier source for cutting edge style.  His women are attractive, optimistic, confident, charming and modern.  His everyday vignettes possess a quirky charm and light-heartedness that engage and delight.  We have come to trust Izak's work to direct us to what is trendy and of-the-moment.  Clients also include Bergdorf, Catherine Malandrino, Chanel, Laura Mercier, Lilly Pulitzer, L'Oreal, Monoprix In France, Nordstrom, Naf Naf, Neiman Marcus, Printemps France, Revlon, Rizzoli, Scholastic, Sephora, Target, WE Channel, Woolite and Vera Wang.  Izak has also worked with many of the world's leading fashion publications including, Vogue, Cosmo Girl, Elle, Essence, Self, Brides, Gotham, Marie Claire, InStyle, Fidget, Mme Figaro, New York Times Magazine, New Yorker, Town and Country, Wall Street Journal, Oprah, and Travel & Leisure."
His female figure certainly looks quite at home among her Saarinen Tulip Chairs and Saarinen Dining Table.
The Knoll Space Sale starts Friday, September 20th and runs through Tuesday, October 1st.
What:
The Knoll Space Sale!
Take advantage of 15% off your favorite designs from the entire Knoll catalog.
When:
September 20th through October 1st
Where:
Vastu
1829 14th Street NW
Washington, DC 20001
This article was recently published in Metro Source and written by Matt Gurry.
As more Americans find themselves in need of a home office, we gather a few pieces of practical advice on how to seamlessly integrate workspace into any home.
In recent years, the workplace has been transformed by technology and the rise of the freelancer. More and more Americans are working primarily from the home, while others have begun taking advantage of corporate policies more amenable to telecommuting. The New Yorker recently cited a 60–percent increase (from 2005 to 2009) in those who work from home, citing Aetna as one company where almost half of the staff telecommute.
The popularity of the home workplace brings up two major concerns anyone working from home must address: How do I create my ideal home office? And, at what point in my day must I put on pants? How you choose to answer the first question correctly can drastically transform the way your workday.
Your goal in designing your workspace will be to carve out a specific nook dedicated to your work. A nook comfortable enough to encourage you to stay put during work hours and focused enough to inspire productivity. Yet it's equally important to consider the flip side of this equation: When it's time for the home to switch back to more traditionally domestic activities like entertaining and relaxing, you won't want the lumbering presence of the job to keep you from shutting off.
Delineate Space
When it comes to setting aside space for your home office, a sense of separation from the rest of the home is key. Unfortunately, extra rooms are a luxury many urban homes don't offer. But Matthew Mercier, co-owner of swanky home-design retailer Vastu (vastudc.com) in Washington, D.C., reminds us that walls and doors are not the only way to delineate space.
"A physical barrier is far from the only option for creating a sense of division among spaces," says Mercier. A strategically placed floor covering can be used to physically separate a work area from living space. Additionally, where work and living space meet, you can use other visual cues, such as a contrasting color palate, to create further delineation.
Abandon Tradition
As important as it is to separate your work space, Mercier suggests moving past traditional ideas of what an office ought to look like, suggesting there are "a world of options beyond the standard desk chair on casters."
Yes, those classic Aeron office chairs are great, but does one belong in your home? Buy the chair you want to sit in — and look at. Make sure it reflects your personal style and how you prefer to work. This frees you to explore hundreds of textile options beyond the limited, institutional palate of traditional office chairs. Mercier offers Knoll's Saarinen Executive Open Back Chair as an example (learn more about Knoll in this feature). But maybe you do your best work balanced on a fitness ball or walking at a treadmill desk. The takeaway is: Your home office doesn't need to look like a corporation took over a corner of your home.
That's Taxing
While you can personalize your home office to your heart's content, there is one set of rules you must follow, and those come from the IRS.
We spoke to Jon Tucker, a tax director at a major accounting firm. First, the good news: These home office furnishings may be deductible. If you're a self-proprietor, he points out you may get more bang for your buck by gradually writing off the cost over the course of their prescribed lives (usually about seven years).
As for deducting the cost of the space itself, these rules have recently changed. Your deduction used to be solely based on the percentage of your home that the office took up (e.g., if it took up 20 percent of your home, you could deduct 20 percent of your rent and utilities). Now, you can choose instead to simply deduct five dollars per square foot of home workspace (likely a bigger money-saver).
For those who are not self-employed but simply working from home, things get fuzzier. For an office to be deductible, you need to be working at home for the convenience of your employer. Which is to say, the perk is your company's moreso than your own. Further, your workspace must be used exclusively for work. What does "exclusively" mean? That's between you and the IRS.
A Place for Everything
One necessary challenge to overcome is organization. In this wired world, your home office can easily become a tangle of cords. But Mercier reminds us that accessories like wireless keyboards, mice, speakers and printers can help eliminate this clutter.
What about paper clutter? Tucker is quick to say that PDFs of important documents can be compactly stored in an external hard drive, eliminating the need for a bulky file cabinet.
Ultimately, the goal of the home office is to honor both concepts of "home" and "office." Smart use of space and clever editing can create a productive business space that won't be an eyesore (and will be tax deductible).
As for when to put on your pants — well that's up to you.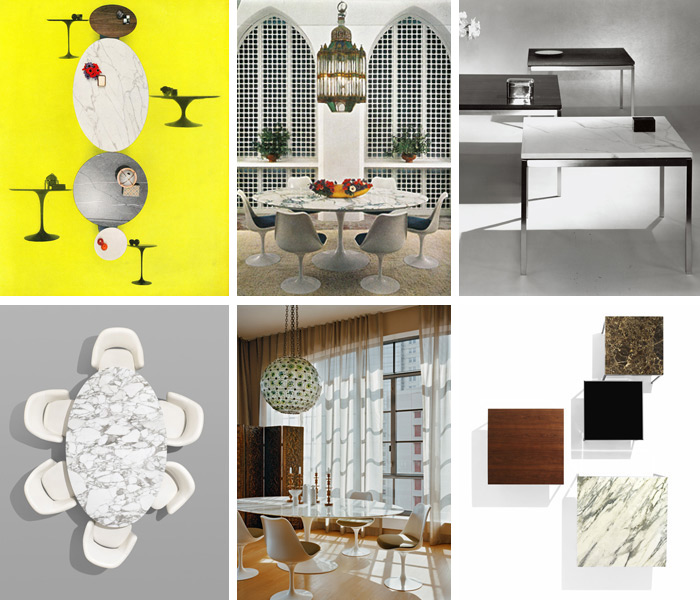 Since the 1950s, Knoll has produced tables, desks and credenzas with beautiful marbles, granites, quartzes and limestones. This follows Knoll's design philosophy of creating long-lasting furniture with the best materials around. So where does Knoll find the best stone for their furniture and how do they get it into your home?
Check out these pictures taken by "Knoll associates, primarily at our supplier in Fermignano, Italy and in nearby quarries."
The Saarinen pedestal table is another oft-counterfeited design that's been around since 1956. Created by Eero Saarinen (designer of the Gateway Arch in St. Louis and Dulles International Airport among other things), these tables feature tops available in laminate, coated and natural marble and natural granite top finishes, in a wide range of colors. The bases are constructed from molded, cast aluminum strap polished and coated in tough, abrasion-resistant rilsan finish.
Available as a dining table, side table or cocktail table with various shapes, sizes, heights and finish options this highly customizable design fits in spaces that range from traditional single family homes in the suburbs to modern loft penthouses in the city.
All Saarinen tables are part of the Knoll Classics Sale and will receive 15% Off and FREE in-home white glove delivery* from Monday, February 25th through Sunday, March 3rd.
*For orders over $500 being delivered to the DC Metro Area.
What:
The Knoll Classics Sale
15% Off Classic Designs From:
Bertoia
Breuer
Knoll
Nakashima
Noguchi
Platner
Risom
Mies van der Rohe
Saarinen
and Schultz
+ FREE in-home White Glove Delivery on orders over $500 delivered to the DC Metro Area
Where:
Vastu
1829 14th Street NW, Washington, DC 20009
www.VastuDC.com
When:
Monday, February 25th, 2013 – Sunday, March 3rd, 2013
The 2012 Knoll Space Sale is in full swing here at Vastu and we're seeing some great ideas come alive in client orders. If you're still waiting on placing your own order, check out these great photos from past projects that include some iconic Knoll pieces.
Don't forget, the Knoll Space Sale lasts through September 30th and includes Free In-Home White Glove Delivery for orders to the DC Metro Area.
See you soon!
The Knoll Space Sale has officially started and we got into the spirit with a new window based on Eero Saarinen's iconic pedestal-based dining, coffee and side tables.
With a variety of marble and wood veneers tops and multiple heights and diameters there's a table to match everyone's style.
Originally: $799 | Sale Price: $679.15
Originally: $1,481 | Sale Price: $1,258.85
Originally: $1,071 | Sale Price: $910.35
Originally: $1,513 | Sale Price: $1,286.05
Originally: $2,758 | Sale Price: $2,344.30
Originally: $2,292 | Sale Price:

$1,948.20

Originally: $1,459 | Sale Price: $1,240.15
Originally: $656 | Sale Price: $557.60
The Knoll Space lasts through September 30th and includes
Free In-Home, White-Glove Delivery
(for pieces over $500 to the DC Metro Area).