Interior designers Pierre Beucler and Jean Christophe Poggioli established the international relevance of their Paris-based firm with a project for the Louvre's Greek, Etruscan and Roman Antiquities Rooms. Among other work for Museums, they have worked for Christian Dior, Cacharel, and Comme des Garçon among other fashion houses.  Their Lounge Collection for Knoll debuted at Salone Internazionale del Mobile in Milan in 2012 and is now available to order.
"Usually as architects everything is about the right line. For Knoll we wanted a really particular line, really straight, really well designed. The challenge was to find a dialogue between this sharp, really well designed line and the softness of the interior.

"Everything was about the right proportions, the right balance. The high back is interesting in a room if you need shelter, if you need to be alone with your computer or your book. We wanted to create a space within a space—a nest. This was the basis of our process. For us the sofa can live almost anywhere. It's quite easy to live with."

-Pierre Beucler and Jean-Christophe Poggioli
CONSTRUCTION AND DETAILS
Residential  Sofa is available in five versions: High Back or Low Back, Standard Wing or Large Wing
Residential  Chaise Lounge is available with arm on either side
Residential  Chair is available two sizes: Lounge and Small Lounge
Contact Sofa is available in two versions: 2-seat or 3 seat
Contract Chair is available two sizes: Lounge and Small Lounge
Available in a variety of KnollTextiles and Spinneybeck® leathers with split upholstery option
Frames are formed plywood wrapped with highly resilient urethane foam
Cushions are multi-density urethane foam
Plywood frame sits atop a welded steel base which is finished in polished chrome or polished copper
Available with polished chrome or polished copper legs
Feet are height adjustable
Have you moved recently? What better way to let your friends and family know by way of these charming postcards made by Etsy seller SweetPerversion. Featuring a hand-drawn silhuoette of the Eames Molded Plywood Lounge Chair on a simple card, these postcards will get the message across of your "new digs" while hinting at your love of mid-century modern classics.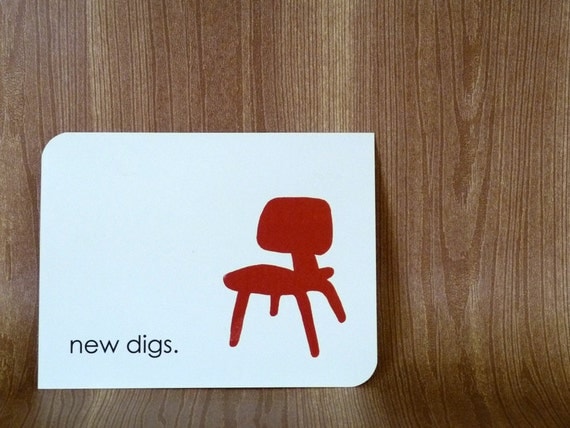 And if these moving announcement postcards are your style, then check out these holiday cards (also from SweetPerversion). How cute!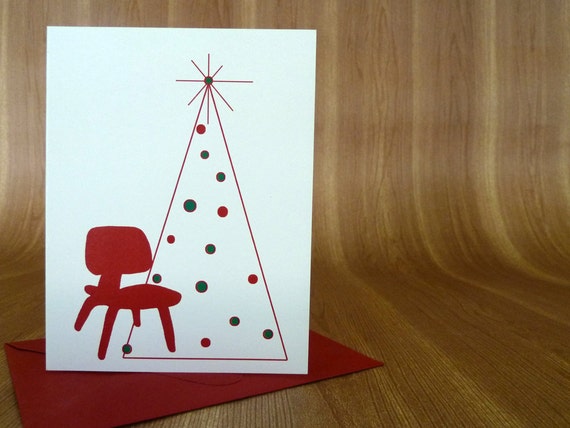 Back when we learned that Herman Miller was not only going to be tweaking the Eames Lounge Chair and Ottoman to more closely reflect the original design, but to also offer it in a White Ash finish…we knew we had to get one for the showroom floor! After what seems like forever, it was delivered this morning.
And it is AWESOME! Take a look below! Read more
Designed by Marc Krusin this year, the Krusin Lounge Chair and the Krusin Side Chair come in several different woods, stains, and lacquers, can have an upholstered seat or a woven paper rush seat and can have arms or be armless.
This versatility and level of customization fits well with the other products we offer at Vastu and makes the Krusin chair a great choice for different spaces, or as Knoll puts it:
"Through an inherent and graceful visual silence, the Krusin Wood Guest Seating Collection maintains a simple linear form that is able to harmonize with a multitude of sophisticated design styles."
And because Vastu is an authorized Knoll Space Retailer, you know you're getting the authentic and original design that Krusin created himself (as evidenced by the designer signature plate located on the underside of the chair).