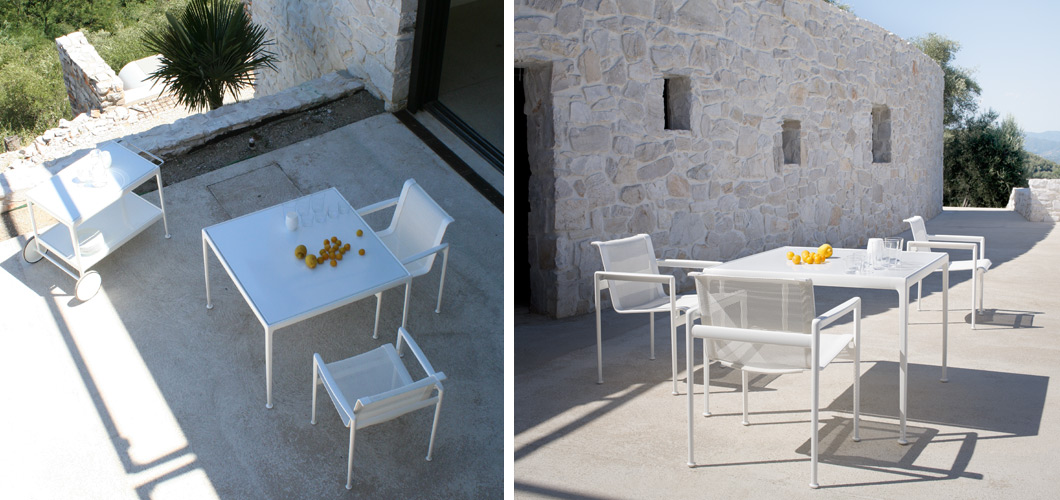 In a surprise announcement, Knoll delivered details of its first sale on the entire Richard Schultz line of outdoor collections since its acquisition in March 2012.
Through May 24th, you can take advantage of 15% OFF on Richard Schultz outdoor designs including 1966®, Petal®, Topiary®, Swell® and Fresh Air Collections. Click here to see Vastu's Richard Schultz online catalog.
What:
Richard Schultz Sale
Where:
Vastu
1829 14th Street NW
Washington, DC 20009
When:
May 10-May 24
Anybody familiar with the Platner collection from Knoll can probably appreciate the way Warren Platner  made comfortable, sculptural and beautiful furniture from something as simple as bent wire. Reintroduced in August 2012, the Platner Easy Chair + Ottoman follow this same design aesthetic at a much larger scale.
From Knoll:
"Since the mid-sixties, Warren Platner's collection of seating and tables using nickel-plated bent wire as a structural and decorative element has captivated furniture enthusiasts. While many Platner Collection pieces have been in continuous production, the Easy Chair and Ottoman were produced between 1966 and 1988.

The hand manufactured Easy Chair, a popular sculptural icon paring geometry and color, is the epitome of curvy comfort; it is available with or without the Ottoman, which can also be used independently."
The Platner Easy Chair + Ottoman is part of the upcoming Knoll Classics Sale (Feb. 25th – Mar. 3rd) and is eligible for 15% Off and FREE in-home white-glove delivery for orders delivered to the DC Metro Area.
Just in time for the Knoll Classics Sale (starting February 25 and running through March 3) we're pleased to announce that Knoll has released a new marble for their Florence Knoll, Platner and Saarinen Collections – Grey Marble!
From Knoll:
"Grey with white and dark grey veins. Larger mineral deposits are common in the varied patterning of the stone. Hues vary in tone and intensity.

Grey Marble is a coated marble available in a high-polish or satin finish. The transparent polyester coating creates a non-porous surface to prevent use-associated stains. Coating may yellow over time giving the stone a warmer tone."
The Saarinen pedestal table is another oft-counterfeited design that's been around since 1956. Created by Eero Saarinen (designer of the Gateway Arch in St. Louis and Dulles International Airport among other things), these tables feature tops available in laminate, coated and natural marble and natural granite top finishes, in a wide range of colors. The bases are constructed from molded, cast aluminum strap polished and coated in tough, abrasion-resistant rilsan finish.
Available as a dining table, side table or cocktail table with various shapes, sizes, heights and finish options this highly customizable design fits in spaces that range from traditional single family homes in the suburbs to modern loft penthouses in the city.
All Saarinen tables are part of the Knoll Classics Sale and will receive 15% Off and FREE in-home white glove delivery* from Monday, February 25th through Sunday, March 3rd.
*For orders over $500 being delivered to the DC Metro Area.
Originally designed in 1929 by Ludwig Mies van der Rohe for the International Exposition hosted in Barcelona, Spain, the Barcelona Chair has since remained an icon of modern design and the inspiration for many counterfeits. It's part of the Knoll Classics Sale and will receive 15% Off and FREE in-home white glove delivery* from Monday, February 25th through Sunday, March 3rd.
*For orders over $500 being delivered to the DC Metro Area.
What:
The Knoll Classics Sale
15% Off Classic Designs From:
Bertoia
Breuer
Knoll
Nakashima
Noguchi
Platner
Risom
Mies van der Rohe
Saarinen
and Schultz
+ FREE in-home White Glove Delivery on orders over $500 delivered to the DC Metro Area
Where:
Vastu
1829 14th Street NW, Washington, DC 20009
www.VastuDC.com
When:
Monday, February 25th, 2013 – Sunday, March 3rd, 2013
The 2012 Knoll Space Sale is in full swing here at Vastu and we're seeing some great ideas come alive in client orders. If you're still waiting on placing your own order, check out these great photos from past projects that include some iconic Knoll pieces.
Don't forget, the Knoll Space Sale lasts through September 30th and includes Free In-Home White Glove Delivery for orders to the DC Metro Area.
See you soon!
The Knoll Space Sale has officially started and we got into the spirit with a new window based on Eero Saarinen's iconic pedestal-based dining, coffee and side tables.
With a variety of marble and wood veneers tops and multiple heights and diameters there's a table to match everyone's style.
Originally: $799 | Sale Price: $679.15
Originally: $1,481 | Sale Price: $1,258.85
Originally: $1,071 | Sale Price: $910.35
Originally: $1,513 | Sale Price: $1,286.05
Originally: $2,758 | Sale Price: $2,344.30
Originally: $2,292 | Sale Price:

$1,948.20

Originally: $1,459 | Sale Price: $1,240.15
Originally: $656 | Sale Price: $557.60
The Knoll Space lasts through September 30th and includes
Free In-Home, White-Glove Delivery
(for pieces over $500 to the DC Metro Area).
With the official beginning of Fall comes two things, the return of the Pumpkin Spice Latte at Starbucks (Yum!) and the Annual Knoll Space Sale.
It's your chance to take 15% off all new orders from the entire Knoll Space catalog!
Choose from great classics like Mies Van der Rohe's Barcelona Chair or new designs like Joseph Paul D'Urso's Swivel Lounge Chair  (shown above in Knoll Felt 'Pink').
The  sale runs from next Friday, September 21st through Sunday, September 30th.
WHAT:
15% Off – The Annual Knoll Space Sale
WHEN:
September 21 – 30, 2012
WHERE:
Vastu
1829 14th Street NW
Washington, DC 2009
One of our designers came across a great article the other day about the marble tops Knoll, Inc uses in several of their designs such as the Saarinen Table series.
Justin Pratt, a studio manager for Knoll UK, provided the original author with some great facts about the marble Knoll sources.
"The white marble that Knoll uses comes from caves high in the mountains in northern Italy and is considered to be the most pure of all the different marbles. It is the same marble that Michelangelo used for his sculptures. Of this most pure of natural materials Knoll selects only the top 4%. So when you buy a Knoll Saarinen table in marble you own one of the great designs of all time, produced in the finest of materials."
As if you didn't have enough reasons to appreciate your Saarinen table from Knoll! Think about it, the top 4% of some of the best marble in the world. If it's good enough for Michelangelo, it's good enough for us!
Pratt goes onto to describe the process Knoll goes through to create its marble pieces:
"One of marble's defining qualities is the beauty of the raw material so we do very little tampering with it. Once the piece of marble has been cut and shaped and finished by hand, a polyester coating is added to the surface. Only Knoll uses polyester to protect the marble and the result is a table that cannot be stained by tea, coffee, wine, lemon juice and most other household stains that could permanently mark the marble without this protection. This polyester coat allows children to do their worst during the day and then with a quick clean the table is ready for a formal dinner party."
We've always loved the durability and iconic status of Knoll's Saarinen tables. Check out the photo gallery below to see how we've used marble-topped pieces from Knoll in past projects!