The Knoll Space Sale starts tomorrow and it's pretty safe to say that Knoll, the company, wouldn't be where it is now without the help of Florence Knoll.
Florence Knoll was a revolutionary architect and furniture designer who helped define standards for modern corporate interiors of post-war America. She was instrumental in creating the Knoll Planning Unit, where most of work in the Knoll collection consists of tables, desks, chairs, sofas, benches and stools. Florence and the Planning Unit were responsible for the interiors of some of America's largest corporations, including IBM, GM and CBS. She referred to her work as the meat and potatoes, filler among standout pieces from fellow designers Bertoia, Mies, and Saarinen.
Florence's ground breaking style became an industry standard in the design world and her 1961 collection was at the forefront of modern minimalists classics. Florence's designs can be described as reserved angular pieces with sophisticated style.
The Knoll Space Sale starts Friday, September 20th and runs through Tuesday, October 1st.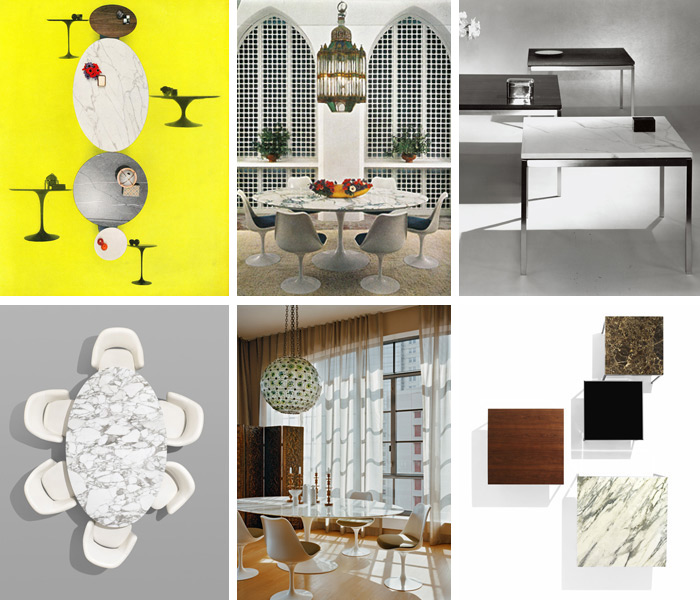 Since the 1950s, Knoll has produced tables, desks and credenzas with beautiful marbles, granites, quartzes and limestones. This follows Knoll's design philosophy of creating long-lasting furniture with the best materials around. So where does Knoll find the best stone for their furniture and how do they get it into your home?
Check out these pictures taken by "Knoll associates, primarily at our supplier in Fermignano, Italy and in nearby quarries."
What:
The Knoll Classics Sale
15% Off Classic Designs From:
Bertoia
Breuer
Knoll
Nakashima
Noguchi
Platner
Risom
Mies van der Rohe
Saarinen
and Schultz
+ FREE in-home White Glove Delivery on orders over $500 delivered to the DC Metro Area
Where:
Vastu
1829 14th Street NW, Washington, DC 20009
www.VastuDC.com
When:
Monday, February 25th, 2013 – Sunday, March 3rd, 2013
Check out this interesting article from Forbes magazine about the recent sale of Richard Schultz's brand to Knoll, Inc.
We first posted about the exciting acquisition back in February.
Happy International Women's Day!!
If you've done anything on Google within the past several hours, you'll have noticed today's doodle for this holiday that ranges from a general celebration of respect, appreciation and love towards women to a celebration for women's economic, political and social achievements.
We're big fans of equality in all its forms so International Women's Day is right up our alley, especially when you think about all the great female designer's that have contributed to the furniture, interior design and architectural industries. Here's just a few… Read more
Check out our great window display for the Knoll Classics Sale (Monday, February 27th – Sunday, March 4th).
We've filled it full of fantastic pieces from Harry Bertoia. Including the… Read more
Coffee table books are great. They can make great conversation pieces and sometimes even contain useful and interesting information. Or pictures, who doesn't love a coffee table book with great pictures?
What makes a book like this even better is when it's about a great company like Knoll, or more specifically Knoll Textiles.
Knoll Textiles 1945-2010 was put together to celebrate "65 years of premium textile design".
From CoolHunting.com:
"Reflecting the mid-century Modernist movement, Knoll Textiles prioritized color and texture as primary design elements, unlike any other company of the time. The book shows patterns created through the years in extreme detail, documented period by period. With insightful showroom, fabric swatch and furniture photographs, as well as sketches and illustrations, every page of this encyclopedia has something to teach the reader."
For any mid-century modern fan in your life, or yourself, this book would make a great addition to your home library or maybe even your Florence Knoll Coffee Table (or other coffee table). Informative, graphic, and chock-full of interesting facts about Knoll and Knoll Textile designers both past and present.
(Original article from CoolHunting can be found HERE)
The Knoll Classics Sale going on today, March 1st, through Sunday, March 6th!
It's that time of year! Enjoy 15% off Knoll Classics March 1st through March 6th. A "Knoll Classic" is any Knoll piece designed by Harry Bertoia, Marcel Breuer, Florence Knoll, Warren Platner, Jens Risom, Ludwig Mies ven der Rohe, or Eero Saarinen.  Iconic pieces like the Barcelona chair, Womb chair and ottoman, and Florence Knoll coffee table will be marked down.  Here's a  look some of the other items that will be one sale…
The Platner coffee table with a clear glass top and polished nickel base, originally $1,268, will be $1,077.80.