Have you moved recently? What better way to let your friends and family know by way of these charming postcards made by Etsy seller SweetPerversion. Featuring a hand-drawn silhuoette of the Eames Molded Plywood Lounge Chair on a simple card, these postcards will get the message across of your "new digs" while hinting at your love of mid-century modern classics.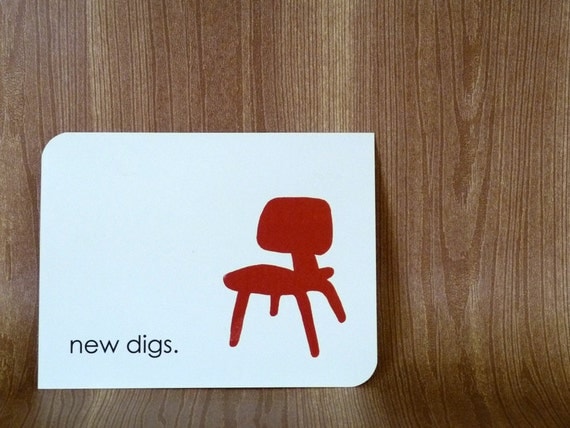 And if these moving announcement postcards are your style, then check out these holiday cards (also from SweetPerversion). How cute!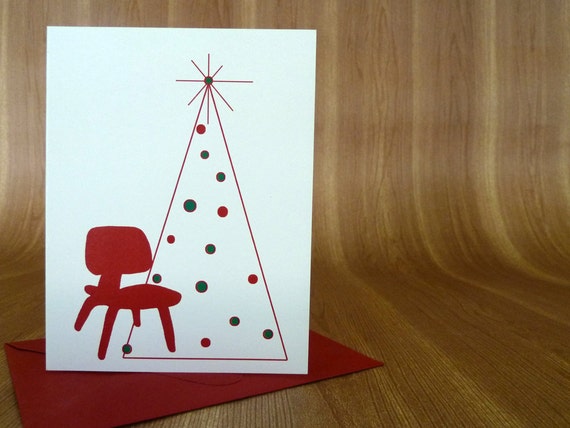 Check out this precious Eames Small Dot clutch purse from Etsy seller Upstyle.
From the seller's product description:
"Chances are if you were drawn to this clutch you know all about Ray and Charles Eames – American designers who's work exemplifies Mid-Century modern style.

This clutch is made from authentic Eames Small Dot fabric by Maharam featuring an off-white design on a black background. (I completely SPLURGED! on this fabric.)"
Maharam is a favorite upholstery supplier of Vastu's, and the Small Dot Pattern by Ray & Charles Eames was designed for the Museum of Modern Art's Competition for Printed Fabrics in 1947.
The idea of furniture imagery on an accessory like a pillow becomes very meta, but we're loving the way Lisa Pascarell for Studio Tree pulls it off with this pillow cover featuring a Black Tulip Chair from Knoll.
Even better, the pillow cover is eco-friendly!
"The chair has been sewn using ecospun felt , which is made from recycled water bottles, except for the red seat cushion, which is natural wool felt. ( sustainable resource)."
Well it seems that Etsy seller Jan Skácelík (Handz) shares the same sentiment we do! Check out this great poster featuring the iconic Eames Molded Plastic Rocker.
This brightly colored print by Yumalum is perfect for the any mid-century modern fan.
This delightful pen and ink drawing illustration is a playful take on the lines of the Eames chair. Owner of the Etsy shop, NanLawson, says this of the sketch:
I love drawing Eames chairs but wanted to be a little playful about it. Perfect for a retro modern kids room! But I'm sure it works for grown ups too.
Can't get enough of this print from Etsy seller, Coffee Shop.  It features the Eames lounge chair and ottoman, Eames rocker, and the Eames molded plywood chair.  In the seller's own words…
The idea behind the COFFEE SHOP is to create homemade related arts and crafts that reflect the spirit of the coffee shop.
It certainly reflects the style and comfort of some of our favorite pieces by Charles and Ray Eames.
Look what we found! An adorable "Home Sweet Home" print from the JennSki Etsy shop that features an Eames chair.  The perfect piece for a mid-century modern enthusiast.
MODIST is a labor of love, run by a Los Angeles-based interior designer and artist wild over mid-century modern design. According to the seller…
We're here to spread the eco-friendly, mid-century modern love, one tote at a time!
We just love the use of iconic Herman Miller pieces on these totes!
We stumbled upon this fun birthday card on Etsy. This handmade card from Dodeline features the iconic Saarinen Tulip chairs.  A perfect way to send birthday wishes to the mid-century modern lover in your life!