Coinciding with the 2014 Knoll Outdoor Sale, Knoll Inc has released two outdoor versions of existing designs: the Saarinen Table and the Bertoia Bench.
The outdoor style of the classic Saarinen table comes in two sizes: a 42″ diameter dining-height table and a 20″ diameter side table. You can choose from Vetro Bianco (white engineered stone) or Natural Slate for the top and a white or black Rilsan finish for the base.
Harry Bertoia's slat bench has been re-imagined with outdoor-friendly solid teak bench slats and three base options: stainless steel or zinc-coated steel with ultra-durable powder coat paint in black or white.
Both of these fantastic new products are part of the Knoll Outdoor Sale and can be yours with 15% Off savings through April 8th!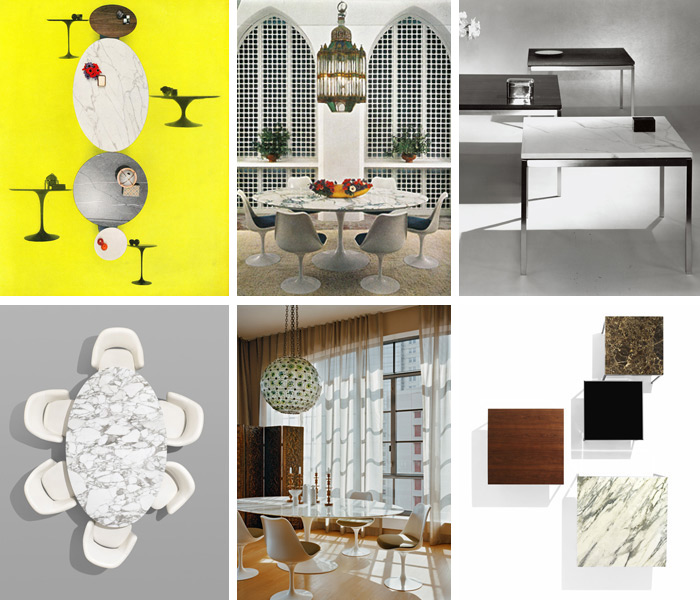 Since the 1950s, Knoll has produced tables, desks and credenzas with beautiful marbles, granites, quartzes and limestones. This follows Knoll's design philosophy of creating long-lasting furniture with the best materials around. So where does Knoll find the best stone for their furniture and how do they get it into your home?
Check out these pictures taken by "Knoll associates, primarily at our supplier in Fermignano, Italy and in nearby quarries."
The Saarinen pedestal table is another oft-counterfeited design that's been around since 1956. Created by Eero Saarinen (designer of the Gateway Arch in St. Louis and Dulles International Airport among other things), these tables feature tops available in laminate, coated and natural marble and natural granite top finishes, in a wide range of colors. The bases are constructed from molded, cast aluminum strap polished and coated in tough, abrasion-resistant rilsan finish.
Available as a dining table, side table or cocktail table with various shapes, sizes, heights and finish options this highly customizable design fits in spaces that range from traditional single family homes in the suburbs to modern loft penthouses in the city.
All Saarinen tables are part of the Knoll Classics Sale and will receive 15% Off and FREE in-home white glove delivery* from Monday, February 25th through Sunday, March 3rd.
*For orders over $500 being delivered to the DC Metro Area.
What:
The Knoll Classics Sale
15% Off Classic Designs From:
Bertoia
Breuer
Knoll
Nakashima
Noguchi
Platner
Risom
Mies van der Rohe
Saarinen
and Schultz
+ FREE in-home White Glove Delivery on orders over $500 delivered to the DC Metro Area
Where:
Vastu
1829 14th Street NW, Washington, DC 20009
www.VastuDC.com
When:
Monday, February 25th, 2013 – Sunday, March 3rd, 2013
The 2012 Knoll Space Sale is in full swing here at Vastu and we're seeing some great ideas come alive in client orders. If you're still waiting on placing your own order, check out these great photos from past projects that include some iconic Knoll pieces.
Don't forget, the Knoll Space Sale lasts through September 30th and includes Free In-Home White Glove Delivery for orders to the DC Metro Area.
See you soon!
The Knoll Space Sale has officially started and we got into the spirit with a new window based on Eero Saarinen's iconic pedestal-based dining, coffee and side tables.
With a variety of marble and wood veneers tops and multiple heights and diameters there's a table to match everyone's style.
Originally: $799 | Sale Price: $679.15
Originally: $1,481 | Sale Price: $1,258.85
Originally: $1,071 | Sale Price: $910.35
Originally: $1,513 | Sale Price: $1,286.05
Originally: $2,758 | Sale Price: $2,344.30
Originally: $2,292 | Sale Price:

$1,948.20

Originally: $1,459 | Sale Price: $1,240.15
Originally: $656 | Sale Price: $557.60
The Knoll Space lasts through September 30th and includes
Free In-Home, White-Glove Delivery
(for pieces over $500 to the DC Metro Area).
Womb chair, Saarinen table, Tulip chair, Dulles Airport…what didn't Eero Saarinen accomplish in his lifetime?
Famous for furniture designs, as well as some amazing architecture, Saarinen is one of several classics designers whose products are part of the Knoll Classics Sale.
"The son of architect and Cranbrook Academy of Art director Eliel Saarinen and his wife, textile artist Loja, Eero Saarinen studied sculpture in Paris and architecture at Yale before working on furniture design with Norman Bel Geddes and practicing architecture with his father. He collaborated on several projects in furniture design with his friend, Cranbrook alumnus Charles Eames, and opened his own practice in Bloomfield Hills in 1950. Among the many buildings for which he is known are the Dulles International Airport in Washington, DC, The Gateway Arch in St. Louis, Missouri, and the TWA Terminal at Kennedy International Airport in New York. He was the recipient of numerous awards and the subject of many exhibitions." (via Knoll)
Classic, yet modern and timeless, here are just a few pieces that you can still order for your home (for 15% off).
Yeah, yeah…we've probably all heard this phrase before to the point that there are even scholarly papers on the phrase (see: "I read Playboy for the articles": Justifying and Rationalizing Questionable Preferences). But believe us when we say that there have been really great pieces of writing in the "questionable" magazine.
Such as this (lengthy) article from July 1961 titled "Designs for Living" where the first line reads, "Unfettered by dogma, the creators of contemporary American furniture have a flair for combining functionalism with esthetic enjoyment…"
The article itself is about some of our favorite designers here at Vastu, 5 of which are part of the Knoll Classics Sale that is currently underway.
Click below to read the original Playboy article.
That's right, this weekend was your last chance to buy great pieces of furniture from Knoll at a reduced price (until next year). We appreciate and thank everyone who came out this weekend supported a local business. It was great catching up with clients new and old and being able to offer such a great discount on the high-quality and equally beautiful Knoll furniture.
Something I noticed as people were placing their orders was that there seemed to be a "fan favorite" of sorts. The Eero Saarinen Womb Chair and Ottoman.
Available in both the original size and a medium version (which is 85% of the original's size) the Womb chair is a fantastically comfortable and visually striking chair to own. The soft undulations of the chair's surface hug your body and make it a joy to sit in. And with all of the fabric choices available, the Womb chair is pretty easy to use in a variety of spaces. Check out the images we found from Knoll below. Read more
It's almost here!
In 2 weeks, you'll be able to take 15% off new Knoll orders as part of our Annual Knoll  Space Sale.
Great savings can be yours on your favorite pieces like a Saarinen Dining Table, designed by Eero Saarinen.
Or the D'Urso Swivel Chair designed by Joseph D'Urso.
Or maybe you want to get a head-start on the quickly approaching holiday season.
The Nakashima Tray, designed by George Nakashima, would make a great gift.
Whatever you're looking for, be sure not to miss out on this sale!