The time has come again for the MidCity Artists Open Studios!
Tour the neighborhood and visit with local artists in their own studios. Here at Vastu, you can chat with and see works from Colin Winterbottom and Brian Petro.
Click the link below for a map of this weekends' participants:
And if you have a smartphone, click here or the main image above for a mobile-friendly app.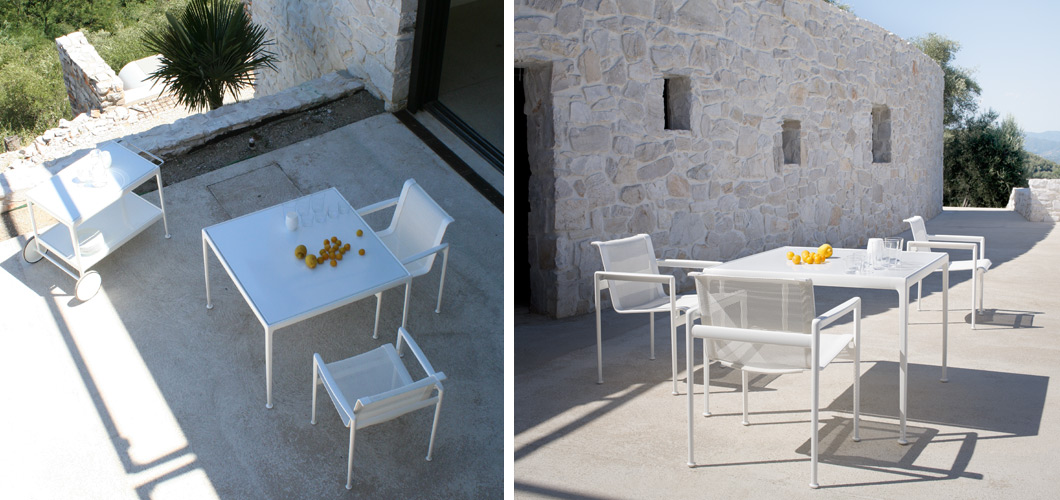 In a surprise announcement, Knoll delivered details of its first sale on the entire Richard Schultz line of outdoor collections since its acquisition in March 2012.
Through May 24th, you can take advantage of 15% OFF on Richard Schultz outdoor designs including 1966®, Petal®, Topiary®, Swell® and Fresh Air Collections. Click here to see Vastu's Richard Schultz online catalog.
What:
Richard Schultz Sale
Where:
Vastu
1829 14th Street NW
Washington, DC 20009
When:
May 10-May 24
We've all seen the rampant construction in the 14th Street area during the last couple of years. At this point it's almost impossible to ignore. With cranes, trucks and blocked lanes it can get kind of tiring. But one of the upsides of all this work is the influx of new restaurants opening, with more to open in the coming months.
Just today Prince of Petworth confirmed, via CityPaper, that Tico Taco would be coming to the Louis project at 14th & U St.
Here's a short list of the other establishments we can expect soon within walking distance of Vastu:
Taqueria Nacional
BakeHouse
Stub's Kitchen & Wine
Doi Moi
Ted's Bulletin
Ghibellina
Black Whiskey
Barcelona
Piola Pizza
And this is all in addition to the two new restaurants that have opened in the past few months: Le Diplomate and Matchbox 14th Street.
So the results are in and while Vastu didn't win "Best Place to Buy Home Furnishings" we did see you guys are showing your support for  a lot of local neighborhood retailers! That's something we can definitely stand behind.
So congratulations are in order for the following winners!
Place to Buy Home Furnishings
Home Goods Store
Vintage Clothing Store
Coffee Shop
Craft Beer Selection, Off Menu Special
Ice Cream Shop
Wine Bar
Sandwich
Place to See Local Music
Great job everyone!
UPDATE – 04/12/2013 – 1:00PM: It was just brought to our attention that Jordan Casale received a runner-up spot for Best Interior Designer. So a big congratulations goes out to Jordan and we wish him the best in his future endeavors!
The 3rd Annual Washington Fine Properties' Home & Design Weekend is a little over a week away!
Don't forget to come out and shop the neighborhood while entering to win the great prizes from the participating retailers.
Vastu will be giving away a pair of custom 18″ square throw pillows in the Maharam fabric of the winner's choice. These fabrics include:
Voyage 'Clover'
Tonus '622′
Aria 'Revel'
Divina '922′
Mechanism 'Emerald'
Letters 'Emerald'
Hallingdal '944′
Topas '976′
Tundra '967′
Flora '986′
You can preview the fabrics by checking out our Home & Design Weekend window display, up now at our Vastu showroom!
For a full list of participating retailers and their prizes, check out the official WFP Home & Design Weekend website.
April 13th & 14th marks the 3rd annual Washington Fine Properties' Home & Design Weekend!
It's a great chance to tour the neighborhood and "Be among the first to see spring fashion trends and new lines, enjoy artists-in-residence original works and learn great home decorating secrets from interior design professionals! This two-day event includes a showcase of new designs and home furnishings, free in-store lectures and hands-on demonstrations conducted by industry experts."
There will also be a chance to win a collection of prizes from the participating retailers, like Vastu, just by visiting their stores and entering. The more stores you visit, the greater your chance of winning!
Stay tuned for more updates as we approach this fun weekend.
Vastu again welcomes artist Brian Petro back to our walls March 25th through early June. From classic floral and sculptural imagery in his signature transfer style, to his fresh new chunky oil paint abstracts and scrawled quirky painted drawings, Brian elicits comfort, joy, and humor in this show.
His work represents his wandering and wondering mind. He credits his style to the dichotomy between his supportive, rural, central-Pennsylvanian upbringing and the brutal independence of urban life. Global travel and urban exploration fuel his search for images, ideas and processes.
Brian is presently represented by galleries in Philadelphia, Washington, DC, and Rehoboth Beach. His work is also on display in venues in Brazil, England, Italy and Hong Kong. Past commercial clients include Absolut Vodka (who commissioned Brian to design the Absolut Dupont Circle Ad), The Ritz Carlton Hotels, Saks Fifth Avenue, and The Library of Congress. Brian has been published in regional and national news magazines and newspapers, and he and his work have been featured on several television shows including HGTV's Curb Appeal and Showhouse Showdown
To see more samples of his art and to learn more about Brian, please visit www.brianpetro.com, see him on YouTube.
To arrange a tour of Brian's studio, located in the lower showroom here at Vastu, please contact him directly at (202) 270-7352 or brianpetroartist@yahoo.com.
Originally designed in 1929 by Ludwig Mies van der Rohe for the International Exposition hosted in Barcelona, Spain, the Barcelona Chair has since remained an icon of modern design and the inspiration for many counterfeits. It's part of the Knoll Classics Sale and will receive 15% Off and FREE in-home white glove delivery* from Monday, February 25th through Sunday, March 3rd.
*For orders over $500 being delivered to the DC Metro Area.
What:
The Knoll Classics Sale
15% Off Classic Designs From:
Bertoia
Breuer
Knoll
Nakashima
Noguchi
Platner
Risom
Mies van der Rohe
Saarinen
and Schultz
+ FREE in-home White Glove Delivery on orders over $500 delivered to the DC Metro Area
Where:
Vastu
1829 14th Street NW, Washington, DC 20009
www.VastuDC.com
When:
Monday, February 25th, 2013 – Sunday, March 3rd, 2013
If you've walked around the neighborhood recently, you  may have noticed window clings promoting the Best of D.C. 2013. This is a reader poll sponsored by the Washington City Paper and it's your chance to list your favorite D.C. things!
It's a lengthy poll, but luckily Washington City Paper allows you to save your progress and come back to vote on all 281 questions in 4 categories. If you love Vastu and appreciate our presence in neighborhood, then why not head over to the Best of D.C. voting page and write us in for "Best Place to Buy Home Furnishings" in the Goods and Services category?
THE POLL CLOSES MARCH 1 AT 11:59 PM EDT