Following closely on the steps of our awesome 2013 Knoll Space Sale is a different kind of promotion from EcoSmart Fire.
If you make a qualifying EcoSmart Fire purchase at Vastu*, from October 1st through October 31st, you'll be eligible for special pricing on the simple and elegantly designed Lighthouse series of outdoor fireplaces.
The Lighthouse comes in three sizes and two outdoor finishes guaranteed to stand up to the elements.  Or you can bring them inside to increase the ambiance of your indoor spaces.
*Spend a minimum of $990 and get the Lighthouse 150 for just $199. Or upgrade to Lighthouse 300 for $299 and Lighthouse 600 for $399.
When designer Jonathan Olivares began work on a new outdoor chair for Knoll, he certainly had a few goals in mind. The chair had to be:
Lightweight, yet substantial enough to withstand the elements
More comfortable than existing outdoor chairs
And stylistically able to be brought and used indoors
It may have taken four years, but we think he achieved those goals, and more, in the Olivares Chair for Knoll.
The Olivares Chair is composed of a die-cast aluminum body-contoured shell and extruded aluminum legs. It's stackable and the entire chair is powder coated with a durable matte finish. It's lightweight, at just under 15 lbs, and comes in 8 fantastic hues that will absolutely add a pop of color either outdoors or in.
CONSTRUCTION AND DETAILS
Suitable for outdoor use
Shell is constructed of die-cast aluminum with outdoor powder coat paint
Leg tenons are integrated in the shell and a subtle reveal transitions the shell to the extruded aluminum legs
Legs are secured to the shell using epoxy and stainless steel fasteners
Chairs stack 6 high on the floor and 10 high on optional dolly
Stacking bumper distributes the chair's weight over a wide area
Designer's signature and the KnollStudio logo are located under the seat
Nylon glides included
The Olivares Chair is part of the Knoll Space Sale and is 15% off through October 1st.
We're entering the final few days of the Spring Richard Schultz sale from Knoll and time has almost run out to take advantage of 15% savings. In celebration of the awesome line of outdoor pieces included in the sale, here's some interesting history on Richard Schultz and his relationship with Knoll (from Knoll.com).
"Richard Schultz has long been an integral part of the Knoll story. After studying mechanical engineering and design at Iowa State University and the Illinois Institute of Technology in Chicago, Schultz joined Knoll in 1951. His first assignment was to assist Harry Bertoia on the development and production of the Bertoia Wire Collection. This led to an 18-month assignment in Europe, establishing and supervising production of the Bertoia designs for Knoll subsidiaries and licensees. After returning to the U.S., he joined the Design Development Group at the Knoll factory in East Greenville, PA.

Schultz is best known for his outdoor furniture designs. His graceful Petal Table, introduced in 1960, received the design award from Industrial Design magazine. The steel wire-formed 715 Chaise Lounge, which was introduced the following year to complement the Bertoia collection, was selected in 1963 by the Museum of Modern Art for its permanent collection of contemporary furniture. After Florence Knoll moved to a seaside home in Florida, she started sending the design team rusty pieces of furniture, asking them to develope something that could perform in the salty climate. Schultz responded with the aluminum Leisure Collection in 1966.
After leaving Knoll, Schultz continued to have a successful career designing outdoor collections for his own studio. Knoll acquired Richard Schultz Design in 2012, enabling the re-release many of Schultz's classic Knoll designs."
Pieces in the Richard Schultz collection of outdoor furniture are 15% off through Friday, May 24th.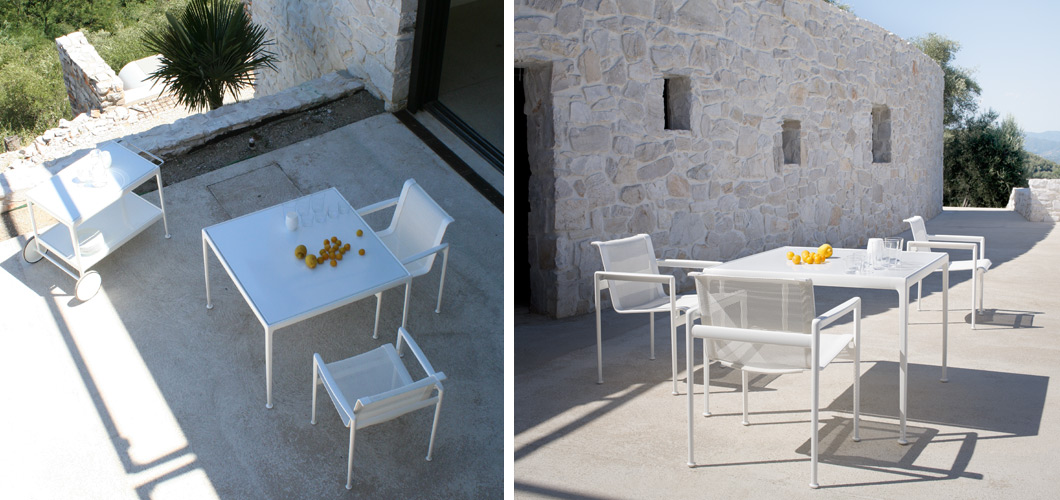 In a surprise announcement, Knoll delivered details of its first sale on the entire Richard Schultz line of outdoor collections since its acquisition in March 2012.
Through May 24th, you can take advantage of 15% OFF on Richard Schultz outdoor designs including 1966®, Petal®, Topiary®, Swell® and Fresh Air Collections. Click here to see Vastu's Richard Schultz online catalog.
What:
Richard Schultz Sale
Where:
Vastu
1829 14th Street NW
Washington, DC 20009
When:
May 10-May 24
Through April 30th, receive special pricing on the new EcoSmart Fire MIX Bowls when you spend over $1,490 on other EcoSmart Fire products.
Vastu is committed to conducting business in an environmentally responsible way, that's one of the reasons you'll never see a printed catalog from us. It also means that we're always on the lookout for manufacturers and furniture makers who create using eco-friendly materials and manufacturing processes.
One of our newest vendors creates contemporary pieces using 97% recycled rubber from tires molded into shapes of various dimensions. The Rubber Cube and Rubber Cylinder come in a total of 10 standard sizes and 8 colors are suitable for both indoors and outdoors and are exceptionally durable.
You can use these as side tables, like our model shown above, or as cocktail tables and even stools.
Their porous nature makes them easy to clean with almost no maintenance and they're anti-fungal and anti-bacterial.
Come by the showroom and check out this eco-friendly piece of rubber furniture today!
Summer officially started two days ago and along with it comes great new outdoor pieces from Vastu.
Whether or not you want to spend any time outside in the awesomely oppressive heat and humidity is up to you… If you're brave enough to face the elements, however, you might as well fill your outdoor living spaces with beautiful outdoor furniture.
Direct from Italy, outdoor lighting from Flos
As we announced yesterday, Vastu is now an authorized Flos dealer  and one of the cool things to come from this internationally-renowned lighting company is the Flos outdoor line.
With floor lamps, pendants, wall lighting and sconces, and even path lights, we now have the products to (safely) illuminate your patios, terraces and decks.
Classic designs in the Richard Schultz Collection from Knoll
We first learned of Knoll's acquisition of Richard Schultz in February and have eagerly anticipated the official release and it's finally arrived. In addition to our other great outdoor lines, the pieces from Richard Schultz are as beautiful as they are functional for outdoor use. In a variety of styles, materials colors and textures, we are pleased to be able to offer you these amazing designs.
We've been busy adding other outdoor lines to our website as well, including one from a leading French outdoor furniture manufacturer, so if you haven't been to our website in a while definitely check it out soon!
Check out this interesting article from Forbes magazine about the recent sale of Richard Schultz's brand to Knoll, Inc.
We first posted about the exciting acquisition back in February.
It is a fabulous and sunny 80 degrees here in DC and the only thing we can think about is being outside. Whether we were getting lunch, a coffee or just soaking up the Vitamin D the beautiful weather has made us all the more excited for a few new products available from Herman Miller.
It's the Eames(R) Aluminum Group for Outdoors!
Earlier this month, Knoll announced that it had agreed to acquire famed outdoor furniture manufacturer Richard Schultz Design.
"The acquisition of Richard Schultz reflects our ongoing interest in remixing our business with high design, high margin specialty offerings which appeal to both commercial buyers and consumers worldwide", said Knoll CEO, Andrew Cogan.
Richard Schultz has made classics such as the Petal Collection,
and continues to create great outdoor designs like the Fresh Air Chair.
It'll be exciting to see when Knoll will add Richard Schultz products to their own offerings (and whether Vastu will have access through our relationship with Knoll). You'll be the first to know, one way or the other!
Click here to read the press release from Knoll.