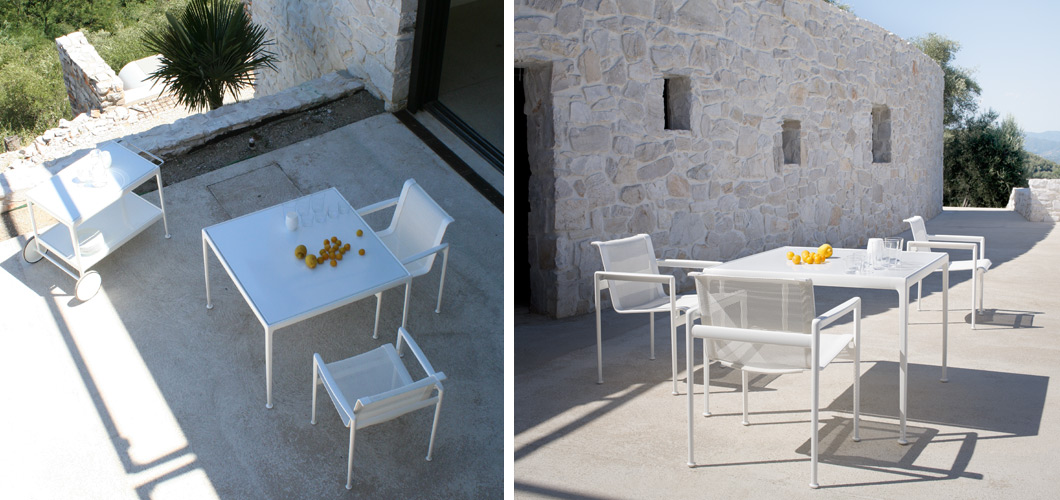 In a surprise announcement, Knoll delivered details of its first sale on the entire Richard Schultz line of outdoor collections since its acquisition in March 2012.
Through May 24th, you can take advantage of 15% OFF on Richard Schultz outdoor designs including 1966®, Petal®, Topiary®, Swell® and Fresh Air Collections. Click here to see Vastu's Richard Schultz online catalog.
What:
Richard Schultz Sale
Where:
Vastu
1829 14th Street NW
Washington, DC 20009
When:
May 10-May 24
Through April 30th, receive special pricing on the new EcoSmart Fire MIX Bowls when you spend over $1,490 on other EcoSmart Fire products.
Vastu is committed to conducting business in an environmentally responsible way, that's one of the reasons you'll never see a printed catalog from us. It also means that we're always on the lookout for manufacturers and furniture makers who create using eco-friendly materials and manufacturing processes.
One of our newest vendors creates contemporary pieces using 97% recycled rubber from tires molded into shapes of various dimensions. The Rubber Cube and Rubber Cylinder come in a total of 10 standard sizes and 8 colors are suitable for both indoors and outdoors and are exceptionally durable.
You can use these as side tables, like our model shown above, or as cocktail tables and even stools.
Their porous nature makes them easy to clean with almost no maintenance and they're anti-fungal and anti-bacterial.
Come by the showroom and check out this eco-friendly piece of rubber furniture today!
Summer officially started two days ago and along with it comes great new outdoor pieces from Vastu.
Whether or not you want to spend any time outside in the awesomely oppressive heat and humidity is up to you… If you're brave enough to face the elements, however, you might as well fill your outdoor living spaces with beautiful outdoor furniture.
Direct from Italy, outdoor lighting from Flos
As we announced yesterday, Vastu is now an authorized Flos dealer  and one of the cool things to come from this internationally-renowned lighting company is the Flos outdoor line.
With floor lamps, pendants, wall lighting and sconces, and even path lights, we now have the products to (safely) illuminate your patios, terraces and decks.
Classic designs in the Richard Schultz Collection from Knoll
We first learned of Knoll's acquisition of Richard Schultz in February and have eagerly anticipated the official release and it's finally arrived. In addition to our other great outdoor lines, the pieces from Richard Schultz are as beautiful as they are functional for outdoor use. In a variety of styles, materials colors and textures, we are pleased to be able to offer you these amazing designs.
We've been busy adding other outdoor lines to our website as well, including one from a leading French outdoor furniture manufacturer, so if you haven't been to our website in a while definitely check it out soon!
Check out this interesting article from Forbes magazine about the recent sale of Richard Schultz's brand to Knoll, Inc.
We first posted about the exciting acquisition back in February.
It is a fabulous and sunny 80 degrees here in DC and the only thing we can think about is being outside. Whether we were getting lunch, a coffee or just soaking up the Vitamin D the beautiful weather has made us all the more excited for a few new products available from Herman Miller.
It's the Eames(R) Aluminum Group for Outdoors!
Earlier this month, Knoll announced that it had agreed to acquire famed outdoor furniture manufacturer Richard Schultz Design.
"The acquisition of Richard Schultz reflects our ongoing interest in remixing our business with high design, high margin specialty offerings which appeal to both commercial buyers and consumers worldwide", said Knoll CEO, Andrew Cogan.
Richard Schultz has made classics such as the Petal Collection,
and continues to create great outdoor designs like the Fresh Air Chair.
It'll be exciting to see when Knoll will add Richard Schultz products to their own offerings (and whether Vastu will have access through our relationship with Knoll). You'll be the first to know, one way or the other!
Click here to read the press release from Knoll.
Winner of the 2011 Good Design Award, Australian International Design Awards, the 2011 DesignEx Best New Product Award, and the 2011 IIDA/HD Award for Excellence, the Stix fireplace from EcoSmart Fire is undoubtedly cool.
Designed by Barcelona-based Japanese designer Hiroshi Tsunoda, the Stix fireplace looks good both indoors and out where it resembles a traditional camp fire.
"Consisting of varying-sized tubular stainless steel 'sticks' that are secured around an efficient 3 litre burner, the EcoSmart Fire Stix is powered by clean-burning, environmentally friendly bioethanol."
Stylish, as well as practical (it can heat a 215 square foot space and last for 7-8 hours), Stix is sure to be a hit no matter where you use it. And now that it's offered in a Gun Metal finish as well as Black, it's easy to incorporate it in various settings.
With heat advisories lasting well into the evening today, we're not advocating you spend a whole lot of time outside. However, we shouldn't allow this summertime heat to completely deprive us of enjoying our outdoor spaces (if you're so lucky to have one). With that in mind, check out these great outdoor pieces…if you can handle the heat, that is.
3. Heaven Cocktail Table by Emu
4. Bertoia Asymetric Chaise Lounge by Knoll
While the last thing you may want to think about during these hot summer days is a fireplace, EcoSmart has a line of beautiful ranges that will most certainly add a touch of style to your outdoor spaces.
Completely portable, these clean-burning ethanol ranges can be moved around to fit within your existing layout. And because they're made from weather-resistant materials, you don't have to worry about bringing them indoors to protect them.