We're entering the final few days of the Spring Richard Schultz sale from Knoll and time has almost run out to take advantage of 15% savings. In celebration of the awesome line of outdoor pieces included in the sale, here's some interesting history on Richard Schultz and his relationship with Knoll (from Knoll.com).
"Richard Schultz has long been an integral part of the Knoll story. After studying mechanical engineering and design at Iowa State University and the Illinois Institute of Technology in Chicago, Schultz joined Knoll in 1951. His first assignment was to assist Harry Bertoia on the development and production of the Bertoia Wire Collection. This led to an 18-month assignment in Europe, establishing and supervising production of the Bertoia designs for Knoll subsidiaries and licensees. After returning to the U.S., he joined the Design Development Group at the Knoll factory in East Greenville, PA.

Schultz is best known for his outdoor furniture designs. His graceful Petal Table, introduced in 1960, received the design award from Industrial Design magazine. The steel wire-formed 715 Chaise Lounge, which was introduced the following year to complement the Bertoia collection, was selected in 1963 by the Museum of Modern Art for its permanent collection of contemporary furniture. After Florence Knoll moved to a seaside home in Florida, she started sending the design team rusty pieces of furniture, asking them to develope something that could perform in the salty climate. Schultz responded with the aluminum Leisure Collection in 1966.
After leaving Knoll, Schultz continued to have a successful career designing outdoor collections for his own studio. Knoll acquired Richard Schultz Design in 2012, enabling the re-release many of Schultz's classic Knoll designs."
Pieces in the Richard Schultz collection of outdoor furniture are 15% off through Friday, May 24th.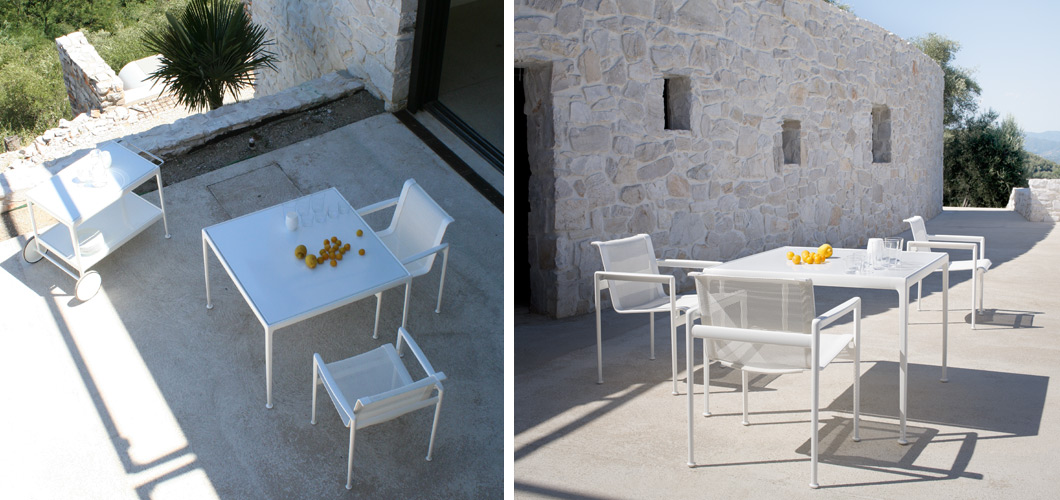 In a surprise announcement, Knoll delivered details of its first sale on the entire Richard Schultz line of outdoor collections since its acquisition in March 2012.
Through May 24th, you can take advantage of 15% OFF on Richard Schultz outdoor designs including 1966®, Petal®, Topiary®, Swell® and Fresh Air Collections. Click here to see Vastu's Richard Schultz online catalog.
What:
Richard Schultz Sale
Where:
Vastu
1829 14th Street NW
Washington, DC 20009
When:
May 10-May 24
Anybody familiar with the Platner collection from Knoll can probably appreciate the way Warren Platner  made comfortable, sculptural and beautiful furniture from something as simple as bent wire. Reintroduced in August 2012, the Platner Easy Chair + Ottoman follow this same design aesthetic at a much larger scale.
From Knoll:
"Since the mid-sixties, Warren Platner's collection of seating and tables using nickel-plated bent wire as a structural and decorative element has captivated furniture enthusiasts. While many Platner Collection pieces have been in continuous production, the Easy Chair and Ottoman were produced between 1966 and 1988.

The hand manufactured Easy Chair, a popular sculptural icon paring geometry and color, is the epitome of curvy comfort; it is available with or without the Ottoman, which can also be used independently."
The Platner Easy Chair + Ottoman is part of the upcoming Knoll Classics Sale (Feb. 25th – Mar. 3rd) and is eligible for 15% Off and FREE in-home white-glove delivery for orders delivered to the DC Metro Area.
Just in time for the Knoll Classics Sale (starting February 25 and running through March 3) we're pleased to announce that Knoll has released a new marble for their Florence Knoll, Platner and Saarinen Collections – Grey Marble!
From Knoll:
"Grey with white and dark grey veins. Larger mineral deposits are common in the varied patterning of the stone. Hues vary in tone and intensity.

Grey Marble is a coated marble available in a high-polish or satin finish. The transparent polyester coating creates a non-porous surface to prevent use-associated stains. Coating may yellow over time giving the stone a warmer tone."
The Saarinen pedestal table is another oft-counterfeited design that's been around since 1956. Created by Eero Saarinen (designer of the Gateway Arch in St. Louis and Dulles International Airport among other things), these tables feature tops available in laminate, coated and natural marble and natural granite top finishes, in a wide range of colors. The bases are constructed from molded, cast aluminum strap polished and coated in tough, abrasion-resistant rilsan finish.
Available as a dining table, side table or cocktail table with various shapes, sizes, heights and finish options this highly customizable design fits in spaces that range from traditional single family homes in the suburbs to modern loft penthouses in the city.
All Saarinen tables are part of the Knoll Classics Sale and will receive 15% Off and FREE in-home white glove delivery* from Monday, February 25th through Sunday, March 3rd.
*For orders over $500 being delivered to the DC Metro Area.
Originally designed in 1929 by Ludwig Mies van der Rohe for the International Exposition hosted in Barcelona, Spain, the Barcelona Chair has since remained an icon of modern design and the inspiration for many counterfeits. It's part of the Knoll Classics Sale and will receive 15% Off and FREE in-home white glove delivery* from Monday, February 25th through Sunday, March 3rd.
*For orders over $500 being delivered to the DC Metro Area.
What:
The Knoll Classics Sale
15% Off Classic Designs From:
Bertoia
Breuer
Knoll
Nakashima
Noguchi
Platner
Risom
Mies van der Rohe
Saarinen
and Schultz
+ FREE in-home White Glove Delivery on orders over $500 delivered to the DC Metro Area
Where:
Vastu
1829 14th Street NW, Washington, DC 20009
www.VastuDC.com
When:
Monday, February 25th, 2013 – Sunday, March 3rd, 2013
At Vastu, we don't like being limited in our choices. It's why we strive to find manufacturers and products that give you a wide range of personalization options. An option we get asked about often is leather.
Whether you're creating a custom sofa or headboard or specifying a lounge chair, we carry and represent some of the best and highest quality leathers in the industry. Leather is one of those durable upholstery options that only gets better with time…if it's done right.
For our custom upholstered pieces from Steven Anthony we provide you with several different leather styles with varying textures and colorways.
Ordering products from Knoll opens up the collection of Spinneybeck leathers which contains hundreds of different options from sealed leathers to sueded varieties. Spinneybeck began as a Canadian company from Ontario that later moved its headquarters to New York state and continues to be a North American leader and supplier of upholstery leather.
**Fun Fact:  "Spinney," the Old English word for woods, represents tannin, the ancient ingredient derived from wood bark, still used in leathermaking. "Beck," the Viking word for brook, or stream, is the water component of leathermaking. Beck was given to the English language by the Vikings who overran the British Isles centuries ago.**
Companies like Herman Miller rely on their own private label leathers, as well as those from well-known leather manufacturer Edelman Leather. Edelman, with showrooms all over the US and representatives around the world, specializes in custom coloring, hand finishes and  their line consists of more than 750 color ways and over 75 different types of leathers, all of which are GREENGUARD indoor air quality certified.
And last but not least, we have leathers from Cortina Leathers. Family-owned by a mother/daughter team, Cortina imports fine Italian leathers for the architectural, interior design and commercial markets in the Americas and all over the world. With over 50 different styles, Cortina produces high-quality and even has extensive custom capabilities that range from simple custom color to complex leathers involving multiple processes, including embossments, transfer prints, laser cutting and tipping.
The 2012 Knoll Space Sale is in full swing here at Vastu and we're seeing some great ideas come alive in client orders. If you're still waiting on placing your own order, check out these great photos from past projects that include some iconic Knoll pieces.
Don't forget, the Knoll Space Sale lasts through September 30th and includes Free In-Home White Glove Delivery for orders to the DC Metro Area.
See you soon!
The Knoll Space Sale has officially started and we got into the spirit with a new window based on Eero Saarinen's iconic pedestal-based dining, coffee and side tables.
With a variety of marble and wood veneers tops and multiple heights and diameters there's a table to match everyone's style.
Originally: $799 | Sale Price: $679.15
Originally: $1,481 | Sale Price: $1,258.85
Originally: $1,071 | Sale Price: $910.35
Originally: $1,513 | Sale Price: $1,286.05
Originally: $2,758 | Sale Price: $2,344.30
Originally: $2,292 | Sale Price:

$1,948.20

Originally: $1,459 | Sale Price: $1,240.15
Originally: $656 | Sale Price: $557.60
The Knoll Space lasts through September 30th and includes
Free In-Home, White-Glove Delivery
(for pieces over $500 to the DC Metro Area).